OMGosh You guys! It's been forever hasn't it?! I haven't posted anything in over 2 months! I actually started feeling really overwhelmed with all my different dt assignments and family activities and scrapbooking just started to feel like a "job" and that is not how I want to feel about scrapping! I love it and it's a huge stress reliever and an amazing creative outlet, but it was not feeling like that for a long time. So, I actually quit all my design teams and took a break. I didn't even scrap for quite a while either! I have recently started to make time for scrapbooking again...but it's mostly stuff I won't be able to show you until after Christmas! I am very glad to be scrapping again, and I plan on blogging regularly again soon...I wouldn't count on much before Christmas though! Maybe if I'm lucky to sneak away and make something that's not for Christmas ;) I haven't even started working on my December Daily album yet! Although I'm dying to get going on that! My hubs also got me a kit subscription to Studio Calico for Christmas, so I'm sooooo excited to start getting my monthly kit!! Wooooohoooo! Anyway, I'm really happy to be back! I've missed all my bloggy friends!
I took a break the other day from the "Christmas presents" to make this fun layout of my middle son Caleb on his way to his first day of school. That backpack is his favourite thing! My dad bought it for him when they came up for a visit. Caleb had an allergic reaction to peanuts at church that morning, so he went to the hospital instead of going shopping with grandpa and Barb, so they bought him this backpack and put a big John Deer truck and a box of oreo cookies inside of it! He's loved it ever since!
the main patterned paper is from Studio Calico and the rest of the paper is from my scraps. Some of it's Basic Grey and other MME...some of it I have no idea! The sunglasses are from Basic Grey too.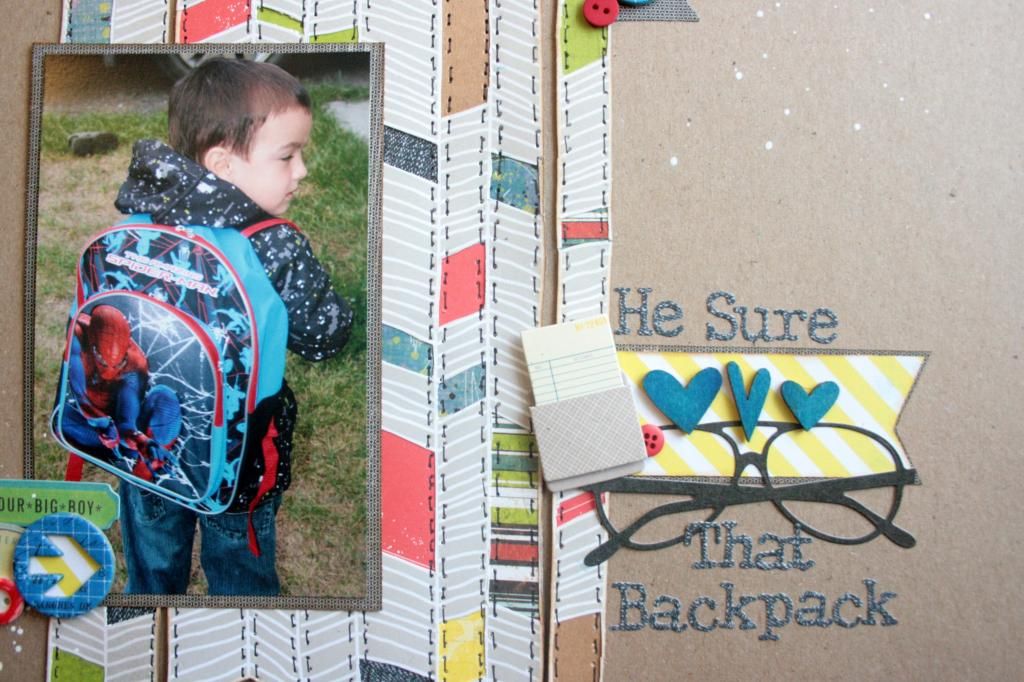 The fun little library pocket is Amy Tangerine and the blue wooden hearts are Studio Calico too...with a little TH ink :) I also used the Tim Holtz Sizzix alpha for the title. I can't remember who makes those fun blue arrows....I want to say Pink Paislee, but I'm not sure...I do know that they're super fun resist that come in white, and then you can ink them up as you want! Love them!
Well, there ya go! I'm working on a bit of a blog re-design too, but my time is soooo limited these days that it will be a very slow process!! In the meantime, I've got some fun chevron background...lol
I wanted to play along with
Frosted Designs
12 days of Christmas for this layout. Day 4 is to use 4 patterned papers! I think I've managed at least 4 in this layout!
I'm so glad to be back!! Thanks for stickin around too (if anyone has!! lol)