Good Morning! I have a layout to share with you today that I actually made last night...I wasn't planning on doing any scrapbooking last night. I actually wanted to veg out on the computer and go to bed early....then I saw
Shimelle's blog post
following the sketch I have below, and how to do a starburst. I've seen starburst tutorials before and I've really wanted to use them on a layout, but I just have never gotten around to it. Well last night I was apparently inspired to break out my scraps from my last layout and try out this sunburst technique once and for all!
I also decided that I would use this layout to start Summer Camp early!! If you haven't already signed up for
Summer Camp with the Scrapbook Nerds
, you need to go do it now! There's an early bird challenge up and I can't tell you about it....you have to
register
to find out what it is!! Can you guess from my layout? I bet you can't!! Muaahahahaha!!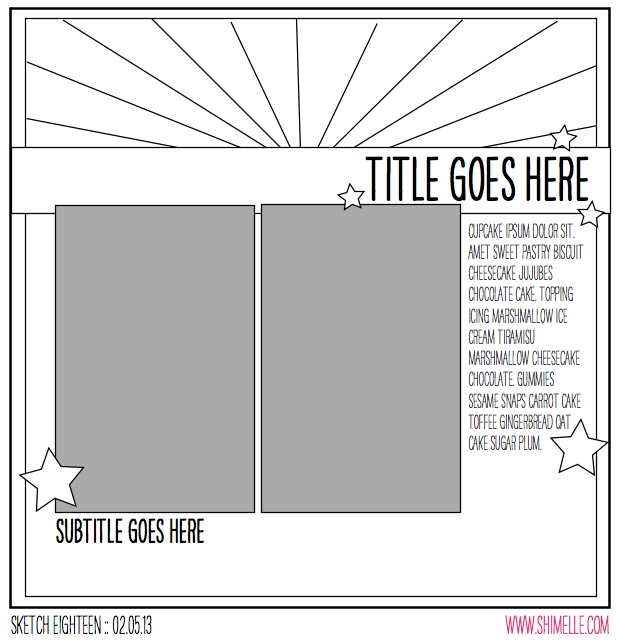 Here's what I learned: As someone who doesn't like to follow instructions...I still should have followed them!! LOL Shimelle has a tutorial posted
here
and it's a really great one...I just thought I could do it without using a template...and I did, but I think it took me waaaaay more time than it would have if I would have just used a stinkin template!! LOL oh well, lesson learned!
These pictures are from "Pink Day". The school has an anti bullying awareness day every year and this year they said that the class who wore the most pink would get a pizza party. That was all Ethan needed for a little pink motivation!
This layout was sooooo out of my comfort zone!! The colours and that sunburst were something that are totally new to me!! I hardly ever use pastels and I NEVER use light pink cardstock as a base!! I'm really happy with how it turned out though!!
The journaling says: "Ethan's school has a "Pink Day" every year where they dress up in pink for anti bullying awareness. They were told that the class who wore the most pink would win a pizza party. That was enough for Ethan to be all over the pink clothes and accessories around his Aunty Jayden's room! The whole school wore so much pink that they all won the pizza party!"
And here's a close up of my sunburst. I separated it with some Lawn Fawn twine...I think it turned out pretty good :)
Well, that's all for today! I hope you have a fabulous day! It's looking like it's going to be awesome weather here!! Yay! Finally! I have to say I'm getting a little sick of the rain (my stinkin grass grows way too fast with all that water!!)
Thanks for stopping by and leaving a comment! I really appreciate it!!
Blessings
Sarah